Information
International Open Recruitment for Professor, or Associate Professor or Lecturer Graduate School of Landscape Design and Management, University of Hyogo
Graduate School of Landscape Design and Management,
University of Hyogo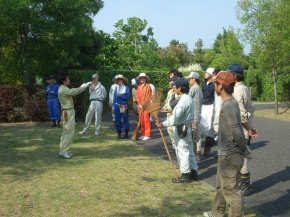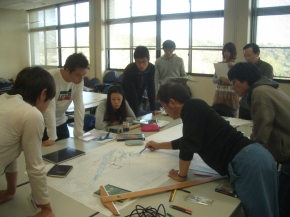 The Graduate School of Landscape Design and Management aims to produce highly competent specialists who possess practical knowledge about local landscaping as well as theoretical knowledge about and technical skills in general landscaping, and who are ready to create community environments in harmony with nature in cooperation with community residents. The Graduate School shares the same campus as Hyogo Prefectural Awaji Landscape Planning & Horticulture Academy (ALPHA), of which a former specialized course was reestablished as the Graduate School. One of the driving forces behind the establishment of ALPHA was the fact that landscaping with flowers and greenery played an important role in reconstructing urban communities devastated by the 1995 Great Hanshin-Awaji Earthquake and many local community residents voluntarily participated in such reconstruction activities.
The Graduate School accepts up to 20 students per year.
The faculty of the Graduate School consists of 15 full-time faculty members, 16 part-time lecturers, and 6 instructors mainly in charge of practical training.
Full-time faculty members
Department

Laboratory

Position

Name

Green Culture & Life

Ornamental Horticulture

Associate Professor

Miyako TABUCHI

Associate Professor

Takashi FUDANO

Horticultural Therapy

Professor

Masahiro TOYODA

Lecturer

Takuya KENMOCHI

Landscape Plant Resources

Garden Trees

Professor

Michiro FUJIHARA

Associate Professor

Takashi OYABU

Planting Design

Professor

Satoshi YAMAMOTO

Associate Professor

Yoshihiro SAWADA

Landscape Design

Landscape Design

Professor

Yue SHEN

Associate Professor

Naoki TAKEDA

Landscape Engineering

Associate Professor

Tetsuya IWASAKI

Landscape Management

Landscape Planning

Professor

Nobuyuki MINO

Associate Professor

Hiroshi TAKEYAMA

Community Landscaping with Flowers and Greenery

Professor

Fujio HIRATA

Lecturer

Naomi SHIMPO

Specially Appointed Professor

Nahoko FURUTA

Katsunobu SHIRAKAWA

Lecturer

Akiko ODA

Hisaki HIRUTA

Hirofumi ONAKA

Junichi KANAHARA

Asami MITSUNARI

Asahi UEJI
All students of the Graduate School are required to live in a student dorm on the campus. Each room is a studio-apartment type with an area of 22.5 m2. No room fees are required, but utility fees (electricity and water) must be paid. In addition, each student is required to pay a student union fee.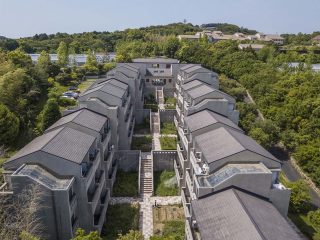 Location of Awaji Campus (Where in Japan?)
Home to the Graduate School of Landscape Design and Management, Awaji Campus for Landscape Design and Management, is located in Awaji City, Hyogo Prefecture and a 60-minute car ride from Kobe in Hyogo Prefecture.
Master of Landscape Design and Management (professional degree)
Tuition fees, scholarships, etc.
Admission fee: 282,000 yen, Annual tuition fee: 535,800 yen, Tuition fee exemption available.
Hyogo Scholarship for Privately Financed Students, etc.
[Curriculum Features]
Lectures and practical study sessions (enshū) are offered in Japanese at the Graduate School. Students must have Japanese language skills equivalent to the N1 Level of the Japanese Language Proficiency Test.
Small group environment and more practical study sessions
Lectures and practical study sessions are offered in a small-group and interactive environment. A practical curriculum that emphasizes practical study sessions—credits from practical study sessions account for approximately 60 percent of all credits.


The Graduate School aims to produce specialists who have a comprehensive understanding of various technologies in landscaping and other related fields, an ability to coordinate and apply such technologies in the most effective manner, and a management capacity to achieve goals.
To that end, the Graduate School offers a curriculum that comprises three specialized areas—conservation and management of natural resources, landscape design, and landscape management and policy studies—as well as numerous cross-disciplinary common areas.
subjects
Landscape Design and Management
Vegetation Landscape Structure
Theory of Landscape Design
Study of Landscape planning policy
Observation in Field
Practice of Plant Cultivation
Practice of Horticultural Design
Basic Seminar in Landscape Conservation
Practice in Basic Landscape Design
Basic Study about Planning of Urban Landscape Management
Conservation of rural landscape
Planting and Maintenance of Trees
Evaluation of Landscape Function for SDGs
Utilization of Plant resources in cities and rural areas
Urban landscape
Global Warming and Carbon Cycle
Strategic Environmental Management of Private Company and Local Government
Open Space Planning
History of landscape design
Practical Using of Horticultural Plants for the Realization of SDGs
Townscape Theory
Architecture and Environment Design Theory
Japanese Garden Culture
Creating Regional landscape Coexisting with nature
Landscape Assessment and Evaluation
Theory of Citizen-based green environmental management and SDGs
Policy and Management in Tourism
Project Management of Environmental Contribution Organization
Urban greenery and environmental policies
Practice in conservation of rural landscape
Practice in Planting and Maintenance of Trees
Practice in Evaluation of Landscape Function
Practice in Landscape Design
Practice in Environmental Design and Management for Urban Safety
Environmental Art Practice
Practice in Plactical Using of Horticultural Plants
Practice in Landscape Construction
Practice in garden design
Case studies Landscape Assessment and Evaluation
Practice for Citizen-based Green Environmental Management
Practical Study of landscape planning policy
Practical Study about Program design in Park
Interactive and Incremental Internship
Seminar for Project of Landscape Design and Management
Advanced Practical Study about Landscape Conservation
Advanced Practice in Landscape Design for Practical Using
Practical Study about Policy Management for Landscape Design and Management
[Entrance examination]
・Reading Comprehension and Writing in Japanese
・a Presentation in Japanese to Prove(Show) Your Outstanding Abilities in Specific Fields
 Introducing your past works, projects or researches could be fine.
To attend an open day, sign up in advance. For more information, please contact us by email (alpha@awaji.ac.jp) or by phone (+81-799-82-3455).
[Number of international students]
4–5 international students in each grade.
[Main employers:]
E-DESIGN Inc.
Fujita Architects and Engineering Office
Keishokan
Universal Engeisha Co., Ltd.
Horticultural Therapy Program
Accurately Responding to Society's Needs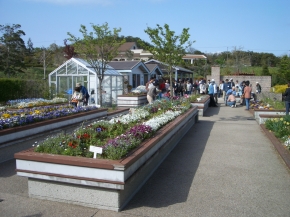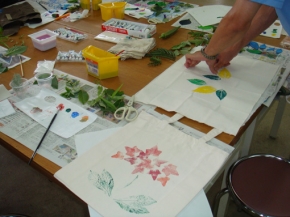 This program is an intensive program to rtain horticultural therapists who will be able to assume future leadership responsibilities. We offer a career-focused educational program to those interested in medicine, welfare, gardening and landscaping. In the first semester, this program deals with four topics – horticultural therapy, horticultural science, medical / welfare systems and management through an equal number of lecture and practical training sessions. In the second semester, two 2-month internship sessions are provided in medical and welfare institutions. Upon completion of the course, students are officially certified as horticultural therapists by Hyogo Prefecture Government. Also, 2,000 hors of paid employment in horticultural therapy qualifies them to apply for the professional registration of 'Horticultural Therapist Registered'(HTR)with the American Horticultural Therapy Association. Graduates are already working at medical facilities and nursing homes all over the country as horticultural therapists.



Continuing Education Program
 To meet local society needs for more flowers and greenery, various courses are on offer to the general public. These involve pragmatic lectures and practical experience in horticulture, and are designed to motivate students to participate in community works.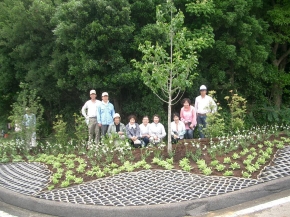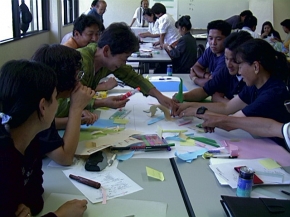 Gardener Trading Courses in Community Works with Flowers & Greenery
Ⅰ.Community Gardener Certificate Course
The community Gardener Certificate Course consists of 2 parts, 'Community Works with Flowers and Greenery Program' in the first semester and 'Beautification of Local Community Program' in the second. The purpose of this course is to allow people already involved in local flower and greenery activity groups to learn basic horticultural knowledge and skills, practical methods and how to assume leadership roles in community works, information outsourcing and others. Through the full-fledged curriculum of lectures and hands-on practical work students are expected to become leaders in their local communities to create a new lifestyle full of flowers and greenery. Each of the first & second programs comprises a 3 day session a month, 5 months in total. Completing both programs, students will receive a 'Certificate of Community Gardener' recognized by the Governor of Hyogo Prefecture.
Ⅱ.Community Gardener Trial Course
The aim of this 3 day Course is to help a wide range of people in Hyogo Prefecture to understand the importance and pleasure of plants, parks and gardens. It will do this by introducing them to a new active lifestyle of voluntary activities to lead them into a new era of community work. This practical trial course is designed to be attractive and enjoyable to as many people as possible offering classes in which all students can design their own garden and actually build it. During the summer, there are also some practical programs available for grammar school & junior high school students.
Ⅲ.Community Gardener Theme Course
This course offers opportunities to people who already have some experience in community works with flowers & greenery to undertake practical, theme-based studies for finding solutions to ongoing challenges. Themes for example; Horticulture Therapy and Welfare/ Biotope and Nature Observation/ Foundation (basic) for Plant Growing / Open Gardens and Community Planning.
Course on the Latest Landscaping Technology
 The latest Landscaping technologies will be introduced for the benefit of self governing organization personnel, the public and post-graduate students. Various opportunities will be made available for people to address gratification and safer town planning & technologies.
Themes for example:
・ Park Management Skills with Citizen Participation
・ Greenery and Scenery
・ Beginners Course for GIS Nature and Environment
GUIDE BOOK