Graduate School of Landscape Design and Management,
University of Hyogo
For Landscape Horticulture Professionals of the 21st Century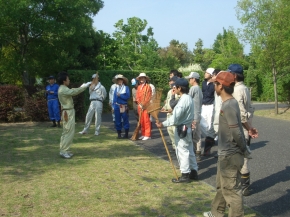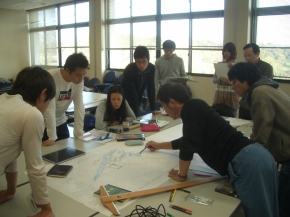 An intensive, hands-on,2-year program is being offered to a small group of 20 select university graduates. Beside fundamental practical skills, the program will emphasize the philosophy and visions which true professionals will need in the world at large. The practical curriculum will teach students, not only about plants, but also coexistence with nature, creatibity and responsibility in design. Students will master the ability to take on new ideas and concepts as well as the skills needed to develop social leadership as professionals of the 21st Century. Concern for protecting our environment is now spreading on a global scale, as is a need for more flowers and greenery. Consequently, we need a capable manpower resource that can assume a leadership role for new developments in the field of horticulture and landscape gardening. Out graduates have been recruited into various organizations; public bodies related to the Prefecture and cities, landscape construction companies, architectural consultants, manufacturers of landscape/horticultural materials, a large housing manufacturer, botanical garden, landscape design and cunstruntion related enterprises, andother organizations related to landscape horticulture. Furthemore, some of out graduates are awarded the opportunity to attend our sister-school in Canada, The Niagara School of Horticulture(1year).
Horticultural Therapy Certificate Program
Accurately Responding to Society's Needs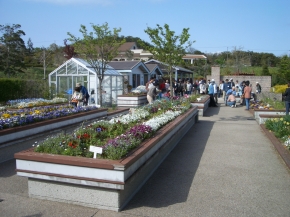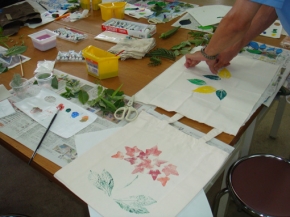 This program is an intensive program to rtain horticultural therapists who will be able to assume future leadership responsibilities. We offer a career-focused educational program to those interested in medicine, welfare, gardening and landscaping. In the first semester, this program deals with four topics – horticultural therapy, horticultural science, medical / welfare systems and management through an equal number of lecture and practical training sessions. In the second semester, two 2-month internship sessions are provided in medical and welfare institutions. Upon completion of the course, students are officially certified as horticultural therapists by Hyogo Prefecture Government. Also, 2,000 hors of paid employment in horticultural therapy qualifies them to apply for the professional registration of 'Horticultural Therapist Registered'(HTR)with the American Horticultural Therapy Association. Graduates are already working at medical facilities and nursing homes all over the country as horticultural therapists.



Continuing Education Program
 To meet local society needs for more flowers and greenery, various courses are on offer to the general public. These involve pragmatic lectures and practical experience in horticulture, and are designed to motivate students to participate in community works.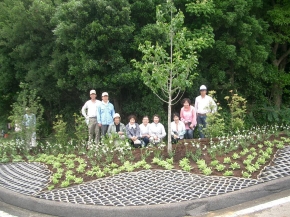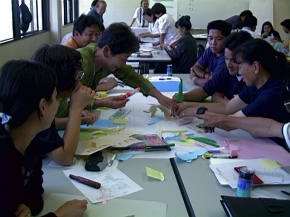 Gardener Trading Courses in Community Works with Flowers & Greenery
Ⅰ.Community Gardener Certificate Course
The community Gardener Certificate Course consists of 2 parts, 'Community Works with Flowers and Greenery Program' in the first semester and 'Beautification of Local Community Program' in the second. The purpose of this course is to allow people already involved in local flower and greenery activity groups to learn basic horticultural knowledge and skills, practical methods and how to assume leadership roles in community works, information outsourcing and others. Through the full-fledged curriculum of lectures and hands-on practical work students are expected to become leaders in their local communities to create a new lifestyle full of flowers and greenery. Each of the first & second programs comprises a 3 day session a month, 5 months in total. Completing both programs, students will receive a 'Certificate of Community Gardener' recognized by the Governor of Hyogo Prefecture.
Ⅱ.Community Gardener Trial Course
The aim of this 3 day Course is to help a wide range of people in Hyogo Prefecture to understand the importance and pleasure of plants, parks and gardens. It will do this by introducing them to a new active lifestyle of voluntary activities to lead them into a new era of community work. This practical trial course is designed to be attractive and enjoyable to as many people as possible offering classes in which all students can design their own garden and actually build it. During the summer, there are also some practical programs available for grammar school & junior high school students.
Ⅲ.Community Gardener Theme Course
This course offers opportunities to people who already have some experience in community works with flowers & greenery to undertake practical, theme-based studies for finding solutions to ongoing challenges. Themes for example; Horticulture Therapy and Welfare/ Biotope and Nature Observation/ Foundation (basic) for Plant Growing / Open Gardens and Community Planning.
Course on the Latest Landscaping Technology
 The latest Landscaping technologies will be introduced for the benefit of self governing organization personnel, the public and post-graduate students. Various opportunities will be made available for people to address gratification and safer town planning & technologies.
Themes for example:
・ Park Management Skills with Citizen Participation
・ Greenery and Scenery
・ Beginners Course for GIS Nature and Environment
GUIDE BOOK
INFORMATION
International Open Recruitment for Professor Graduate School of Landscape Design and Management, University of Hyogo